Windows Phone Apps I Used During My Last Trip
Here's a list of apps that we used during our trip to New York City. We stayed there for a week. Our activities were the usual ones for tourists: shopping, restaurants, museums and a lot of walking!
I used mainly my Windows Phone. Since the Surface RT and the Pro don't have a cellular connection we used the iPad. There are 2 advantages:
- First, AT&T had a promotion: 25$ gave you a 5Gb data plan (as a tourist, you have to use a credit card like an American Express that doesn't check the card owner's home address, because AT&T will ask for a US address)
- You can use the iPad as a hotspot. So I was able to connect my Nokia Lumia 920. Even with this solution and the Wi-Fi hotspots in NYC you will need to have apps working offline.
The list:
Yelp and Urbanspoon, the usual suspects for restaurants. Yelp is pretty important to find good coffee shops.
But we mainly used Foursquare lists, my favorite client is 4th and Mayor. But I still hope to see a first-class client from the start-up on Windows Phone 8. Our list had plenty of restaurants, bars, museums etc. We didn't have a precise plan so we used the list according to the weather, etc.
Amazing Weather HD, we checked the weather every morning and planned our day accordingly
OneNote for all the tips found on the interweb
NYC Subway, it's not the ultimate MTA app but it works offline and you can have a general plan, see the lines details and find a route between 2 stations
Here Maps and Here Transit from Nokia. Here Maps works offline if you download the map in advance (for NY it's a 150 Mb package). First it contains the map with transit information and more importantly you can also search for a place (restaurant, bar etc.). You can get the directions between 2 addresses by car or by walking. The subway/bus directions require an Internet connection and you are redirected to the Here Transit app to find more alternatives. It's a must-have because even if you have a data connection, you can be in a place with spotty reception.
Photosynth et Proshot for the « souvenirs » with the very nice camera on the Lumia 920 :)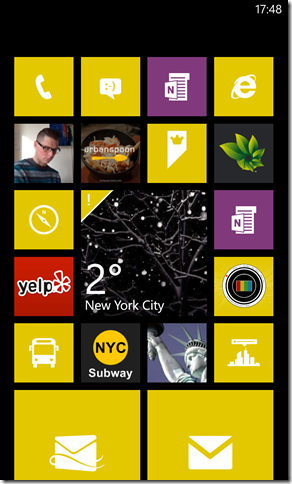 billet publié dans les rubriques everything-else le